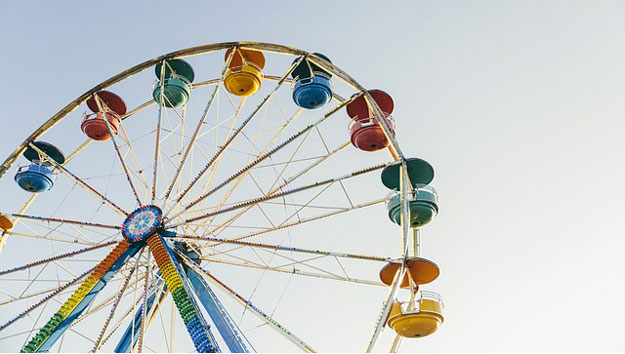 Southern California, or SoCal, stretches from north of Los Angeles to San Diego and points south.  It's a popular vacation destination for its wonderful climate, miles of dramatic coastline, endless stretches of great beaches, mountains ranges, giant redwood forests, deliciously trendy food, glitzy shopping, laid-back California attitude and family-friendly attitude. Oh, and don't forget the long list of amazing theme parks with thrill rides galore and water fun.
Classic seaside amusement parks, then called Boardwalks, have existed along SoCal's coast since late 1800s and early 1900s, the heydays of the gilded age.  After years of decline, they emerged in modern, high tech form both along the SoCal coast and a bit inland.  While there were others before it, Disneyland placed SoCal on the map as a global vacation destination.  Since SoCal encompasses a large geographical area, this comprehensive list begins just north of Los Angeles and works down through the Anaheim area, through Orange County, and south to San Diego.
Six Flags Magic Mountain
This amusement park has some of the best roller coaster thrill rides anywhere.  For the serious coasters, the names tell it all: Apocalypse, Batman, Dive Devil, Full Throttle, Golliah, Viper. Flume rides, lower level thrill rides and go-carts are favorites for younger kids; pint-sized riders will love Daffy Duck, a floating bus, and carousel rides.  To slow down a notch, the park also had all sorts of carnival games, arcades and entertainment along with plenty of food choices.
Hurricane Harbor
This seasonal water park is open only during the summer months, from the end of May through the end of September.  It's a wonderful place for kids and families who want to have a great time getting wet, and a great companion or alternative to Magic Mountain next door.  There are endless water features and rides for all ages.  Younger people will seek out the thrills of Bamboo Racer, Black Snake Summit, Bonzai Pipeline and more.  Cast-away Cove is little kid-sized waterplay and mini water rides.  Families can cruise down a "river," or hang on tight and go way over Lost Temple Rapids.  And, since water fun brings on hunger, food choices range from hamburger and hotdogs to pizza, veggie wraps, sushi and salads.
Universal Studios Hollywood
This popular theme park is all about America's film studio mecca.  Located on the property of the world-famous studio, it's fun to go behind the scenes and tour a working movie studio, explore where legendary Hollywood movies were made, and come face to face with King Kong in 3-D!  Or, experience attractions and rides based on Universal's major movies and shows. Become submersed in all the familiar places frequented by the Simpsons, join the mischievous minions on Despicable Me Minion Mayhem, experience the high-powered action of Transformers The Ride in 3D, and go full speed on Fast and Furious Supercharged.  And as of Spring 2016, be transported into the Wizarding World of Harry Potter. Once you've ridden all the rides, head over to City Walk for the glam shops of LA, trendy restaurants and more.  Here's a real extra: watch famous celebrities being interviewed on the set of NBC's EXTRA!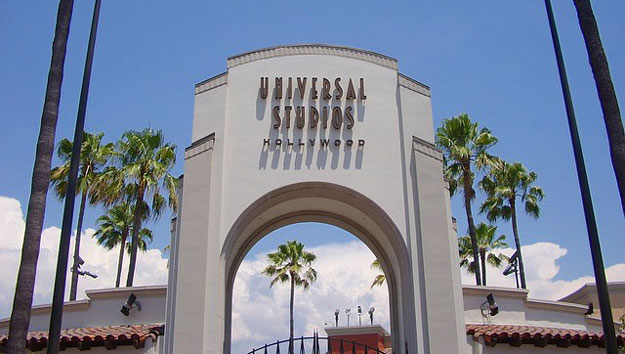 Pacific Park Santa Monica
Head west over to the Santa Monica Pier for fun rides with amazing views.  An amusement park set right on a pier with rides, mid-way games, souvenir shopping and pick-up foods such as tacos, pizza ice-cream and cotton candy. You're sure to feel the carnival atmosphere.  Going around and around on the Ferris wheel, the views of the Pacific, Santa Monica and Venice Beach are fabulous.  Rides and games appeal to kids, particularly young ones who are not into or don't meet height restriction on the big climb and dive thrill rides of some of the bigger theme parks.
Knotts Berry Farm
This is no ordinary trip out to the family farm.  It's a California-themed amusement park for the whole family known for its wild rides. In a world of high tech animations, this 160 acre park of high-flying rides and activities located throughout 6 themed sections is just plain fun. Old West Ghost Town is the heart of the park.  High speed, big-drop, sharp-turn thrill rides, twisting, turning roller coaster rides are tummy churning, and western-themed shows and attractions lots of fun.  There's Wild West themed food here too!  Boardwalk has thrill rides, games and food for all the wannabe surfer dudes.  Fiesta Village rides celebrates California's Mexican heritage there are souvenirs galore in colorful markets. Tots and young children can spend the entire day happily exploring the kid-sized activities in Camp Snoopy.
Disneyland California
There is no doubt Disney magic exists in Disneyland California, the first of Disney's delightful immersion into the world of make-believe.  Leave the world behind at the gates and enter one filled with fun, adventures, and encounters with the gentle spirit of Walt Disney's classic favorite characters.  Fantasyland, centered by Magic Castle is filled with rides and adventures of favorites Peter Pan, Dumbo and Pinochio.  Frontierland is about the west and open space on Big Thunder Ranch and Mark Twain Riverboat rides.  Tomorrowland take visitors into the mysteries of space and beneath the ocean surface through attractions and rides.  Little ones will find their favorite characters like Mickey, Minnie and Chip & Dale are found in Toontown.  Older kids flock to Adventureland to experience the excitement of Indiana Jones, and jungle surprises and New Orleans Square, where ghosts lurk and Pirates roam.  Main Street, USA is great to stroll and shop and of course, themed restaurants are part of the experience.
Disney California Adventure
More Disney magic unfolds next door Disney California Adventure.  Smaller than and not as busy as Disneyland, it's a combination of Walt Disney's California and Disney's Pixar favorites brought out throughout the park in 30 attractions and rides, character experiences, shows and events.  It's a fun place for the whole family, done the Disney way.  Pixar-related experiences focusing on Toy Story, A Bud's Land, The Good Dinosaur, Finding Nemo and, of course, Frozen.  Older kids seek out great thrill rides such as California Screaming and Twighlight Zone.  On the flip side, there's a  nostalgic journey to a California coastal Boardwalk with all the old favorites: carousels, Ferris wheels, and games.  And of course, there's themed food and shopping throughout.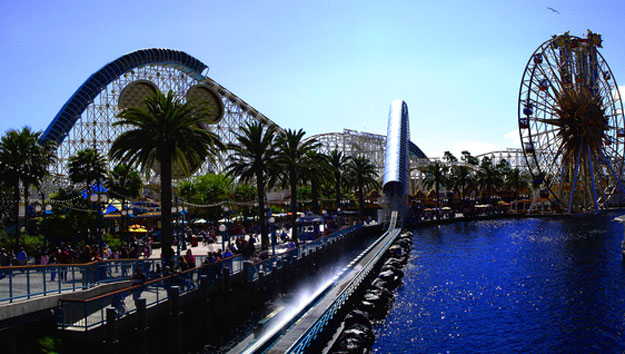 Balboa Fun Zone
Located on the coast in Newport Beach, Balboa Fun Zone is a real change of pace.  No bells or whistles here and it's not for everyone.  It's old fashioned Boardwalk fun in the middle of a waterfront village on the Balboa peninsula in Newport Beach.  The Ferris wheel on the pier, which has been there since 1936, has fabulous views and is the centerpiece of a collection of arcades, souvenir shops and places to get typical carnival food.  The waterfront village surrounding Fun Zone is the departure point of harbor cruises, whale watching trips and other water experiences.
LEGOLAND California
This amusement park is built on the plastic bricks that have been a multi-generational favorite!  A visit to LEGOLAND opens up creative possibilities, beginning with a huge, bright red dinosaur looming over the entrance (made from legos of course).  With over 60 LEGO-related rides, attractions and shows, LEGOLAND delights.  Throughout the expansive park, there's one attraction after the other to be experienced as well as snack bars and shops.  Safari Treck is a fun drive in a Jeep through an open African plain of LEGO wild beasts. Flight Squadron is a fun ride for younger kids who can't go on the 6+ safari.  Get out on the water without getting wet in Skipper School.  Miniland USA, a collection of created-to-scale American cities build with LEGO's, 20 million of them, is fascinating.  Kids will love StarTrek and thrills of Knights' Tournament and Dragon Coaster.  Lego Technic is good for older kids, too wild perhaps for those not into thrill rides or kids under 6.  With a nod to older kids, XboxWB Family Game Space, had little to do with LEGOs but is competitive fun.  Legoland is a fun, full day.  Kids love it!
San Diego Zoo Safari Park
Located inland between Carlsbad and San Diego, San Diego Zoo Safari Park is not just a zoo; it's over 1,800 spacious acres where animals from all over the globe including gorillas, rhinos, giraffes, lions, tigers, cheetahs, elephants, antelopes, camels, monkeys, exotic birds and so much more.  While the park's mission is one of wildlife conservation and breeding, to the visitor it's a place to see animals up close, go on a choice of interesting safaris (even one by hot air balloon!) and see animals behind the scenes.  Plus, you can enjoy theme park attractions such as zip lines, a carousel, play areas, a petting zoo, shops and themed dining choices.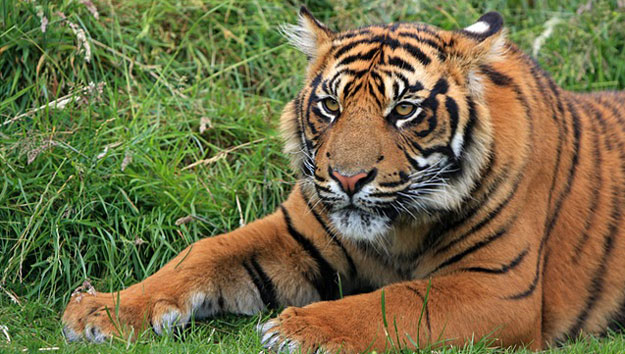 Soak City
One of SoCal's largest water parks, Soak City has lots of creative water slides of all thrill levels.  There are really cool slides down which riders on mats or tubes plummet from over 40 feet through all kinds of curves and twists to the pools below.  Don't be deceived by the one called Old Man Falls. It's only for those who dare defy gravity by falling 63 feet at warp speeds. The family can ride together through Pacific Rim, which includes going through a 132 foot long tunnel that drops 75 feet into a 6-story funnel.  And for the pint-sized water babies, there's Gremmie, an interactive octopus that sprays and spouts.
Belmont Park
In the Mission Bay area of San Diego, Belmont Park is yet another oceanfront amusement park from another era.  Developed in 1925, it's still immensely popular today.  Compared with all the high tech theme parks, it's a simpler place, with some of the early rides still in place.  The Giant Dipper, a visitor favorite, is a wooden roller coaster that has been around so long it's on the National Register of Historic Places!  There's something here for everyone from a carousel, bumper cars, arcade and midway games to thrill rides, water fun, zip lining, rock wall climbing and a laser maze. Not to mention great ocean views too.
Sea World San Diego
While everyone entering the park rushes off to see Shamu and catch a glimpse of Baby Shamu, SeaWorld San Diego is so much more.  It's a day spent exploring the mysteries of the ocean and connecting with sea creatures through a nice balance of multi-sensory experiences.  There are shows with live animals to watch, exhibits with live animals to see and in some cases to touch and thrill rides, both actual and virtual.  It's entertaining, educational and hands-on.  Shows, which include One Ocean Killer Whale Show, Sea Lions LIVE, Blue Horizons with fast-swimming dolphin, and animal training in Pets Rule!, are popular.  Close encounters are experienced live or through technology by walking through a clear tunnel with sharks swimming overhead in Shark Encounter or through a technological immersion into the hazardous journeys undertaken by sea turtles.  Watch penguin antics in Penguin Encounter and Baluga Whales swimming languidly.  Touch tanks in Explorers Reef are great for all ages.  It wouldn't be a theme park without thrill coaster rides, many of which are ocean-themed rides, plus chances to get soaked on rides through rapids and down waterfalls!