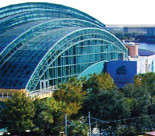 Tampa has a revitalized historic district, great weather, access to wonderful beaches and a variety of attractions. While visiting Florida's third largest city, consider these top 10 family friendly activities.
Busch Gardens is an African-themed amusement park. The facility is home to a variety of animals native to the Serengeti. You can ride several roller coasters and other adrenaline-pumping thrill rides. Other attractions include Sesame Street-themed rides for smaller children and a section with arcade games.
The Florida Aquarium introduces guests to thousands of marine animals from around the world. Popular attractions include the Wetlands Trail and the Coral Reef, which simulates the aquatic conditions at 60 feet. Your family can dive with sharks or swim with the fish and moray eels. The aquarium's two-acre recreation area is great place to cool off.
Caladesi Island State Park is ranked as one of the country's best beaches. Children will enjoy playing in the white sand and warm shallow water. You can explore the island's interior mangrove swamp by kayak, and view wildlife along the three-mile nature trail. The park has picnic tables and shelters near the beach.
Captain Memo's Pirate Cruise invites your child to become a buccaneer. Climb aboard the custom-built pirate ship in search of gold and adventure. Young crewmembers will learn the pirate trade, including defending the vessel with water cannons. During the daring expedition, you can listen to steel drum music and watch dolphins playing in the surf.
Dinosaur World is the planet's largest dinosaur-themed attraction. Children can become paleontologists for the day. They will get their hands dirty as they dig for fossils and tour more than 150 life-size models of dinosaurs. The museum displays authentic dinosaur eggs, claw prints and other fossils.
Adventure Island is a water park that has over 30 acres of rides, chutes and slides. There are corkscrew slides, a giant wave pool and a children's play area with waterfalls, geysers and a multi-story play structure. Relax as you float on a bayou river or feel the exhilaration of a drop from a mountain peak.
Great Explorations Children's Museum is filled with interactive and hands-on exhibits. Children have fun while learning about marine life, how food is grown, fire safety and caring for a pet. Other exhibits enable children to create their own news program and construct a tree house. The theater hosts a variety of science shows.
Heritage Village is a 21-acre living history museum. Children can see costumed interpreters and historic structures that reflect 19th century life in the local area. Displays and exhibits inside the school, church, general store, warehouse and train depot teach children about coastal living.