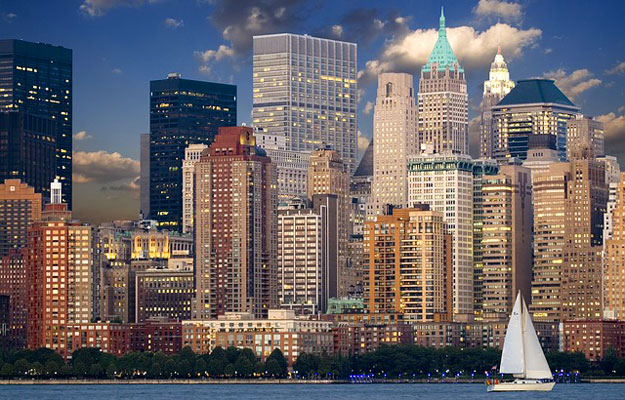 While other major world cities claim bragging rights to" bigger, better, bests," NYC is tough to beat. It's the center of global commerce and culture, and it stands as a symbol of American ingenuity, inclusiveness and resilience. A favored and often first U.S. destination of visitors from all over the globe, NYC is in the minds of many Americans. 
Central Park
Many cities around the world have beautiful parks, but only NYC has Central Park. A huge swath of green in the middle of Manhattan – it's arguably the world's most famous city park. Walk through it, bike through it, Segway through it. Put out a blanket on expansive, bucolic Sheep's Meadow for a spectacular view of Manhattan's skyline all around. Rent a rowboat and row out on The Lake or overlook it over lunch in the Boathouse cafe. Walk through the Conservatory Garden, six acres of formal gardens. Stroll down shaded paths, over stone bridges, past statues, around ponds surrounded by weeping willows and flowering landscape. Take photos of stone arches crossing lovely ponds, of whimsical Belvedere Castle, of flowers and quotations from the Bard in Shakespeare Garden, of Strawberry Fields, the tribute to John Lennon who lived in the Dakota house across the street. Take the kids to the zoo. In the winter, skate in Wollman Rink, ride in a horse-drawn carriage, have lunch or dinner at Tavern on the Green, aglow with thousands of mini white lights – straight out of Curry & Ives.
Statue of Liberty
Singularly recognized world-wide as a touchstone of universal freedom and democracy, the Lady Liberty is a sight to see up close. Her imposing, enduring, unflinching presence has dominated New York Harbor since her dedication on October 28, 1886. Standing as a guardian of liberty, she can be seen from Battery Park, from the Staten Island Ferry, or on a tour of Liberty Island. To get to the island, make reservations ahead of time. To get up to the pedestal or to the crown, reservations must be made way in advance. Information on tours and ferry service from Battery Park on Statue Cruises is readily available on the National Park Services website. It is possible to walk the grounds without reserving Pedestal or Crown access, but, if you are going to take the time to stand in lines and go through 2 security checks to get to the island, going up to the pedestal and the crown makes it a once-in-a –lifetime experience.
Ellis Island
Unique as a symbol of the promise, hope and possibility of America, Ellis Island is compelling. Statistics tell the immigrant story from 1892 to 1954 when the primary point of entry was NYC: a staggering 12 million immigrants passed through Ellis Island! A visit to this "Island of Hope, Island of Tears" offers a compelling, very real, insight into the fears and hopes of immigrants who left everything familiar behind for the sake of a better life. To get there, Ellis Island access and the ferry ride to it are included in all ticket options for a visit to the Statue of Liberty. Once there there are options. Free audio tours are available for self-guided tours; free 30 minute guided walks are offered if staff is available; 90 minute guided tours of select areas offered by advance reservation only for anyone over age 13. While many artifacts have been in storage since Hurricane Sandy, life-sized photographs of families who passed through over the years on exhibit throughout the halls are thought-provoking. For those whose families passed through, the experience is profound. If you know your ancestors passed through Ellis Island, bring along their correct full name and any documentation you have to look them up on computers available for searches. If they are there, you will be able to find their names on the memory wall. The experience is humbling and grounding.
Tenement Museum
A fascinating time capsule of immigrant life in America between 1863 and 1935, this interpretive museum is a fascinating, one-of-a-kind hidden gem. Located in the Lower East Side, America's iconic immigrant neighborhood, the museum interprets the daily lives and personal journeys of generations of ordinary working-class people in a humanizing way. Over a span of 67 years, the 1863 tenement building at 97 Orchard Street was home to nearly 7,000 working class immigrants from over 20 countries. They came in waves, fleeing wars, famine and persecution – German, Polish, Irish, Italian, Jewish, Russian. The museum tells the stories of how newly families settled in this immigrant enclave, established themselves, adjusted to an ever changing neighborhood, and then left to all points throughout America to follow the American Dream. Tour options give visitors a close-up view of the daily lives of residents both in the tenement and in the ever-evolving neighborhood. Tours of the building include restored apartments, each furnished in amazing detail, reflecting a specific time and immigrant group it represents times, and street-level, family businesses. Costumed interpreters take tours to another level as they play the role of residents in an engaging and interactive way.
Museum of Modern Art (MoMA)
A collection of the best of the bests of modern and contemporary art in the world line MoMA's open, light-filled galleries. While not as huge and iconic as the MET, the MoMA is about the art of our time. Modern and contemporary art stretches the boundaries of art as we are uses to seeing it through the ages. It challenges our notion of what is art. When viewing awesome, now-familiar works in MoMA's permanent holdings from the greats – Picasso, Matisse, Van Gogh, Gaugin, Dali. Pollock, Mondrian, Klee – it's easy to forget that their art was considered to be outrageous and experimental in their time! Contemporary installations give voice to the new wave of artists. Often difficult to understand at first glance, they challenge the mind by bending artistic norms. This is the essence of this great art museum. Don't miss the Sculpture Garden.
High Line
This 1.4 mile public walkway park, elevated 30 feet above the hustle and bustle of Manhattan's West Side from Gransevoort St. in the Meatpacking District to West 34th Street between 10th and 12th is a one-of-a-kind experience. Transformed from an out-of-use freight rail line a into a true community place, it's filled with a landscape of trees, bushes, grasses and flowering perennials, benches on which to sit and chill, art, food vendors and views! Used by residents of the surrounding neighborhoods, it is a great place for visitors too. On-going community programs, over 400 programs of them are inclusive gatherings -historical tours, kids activities, art projects, dance parties, you name it, they do it! For visitors, it's a really cool. It's a place to get a real feel of NYC and New Yorkers.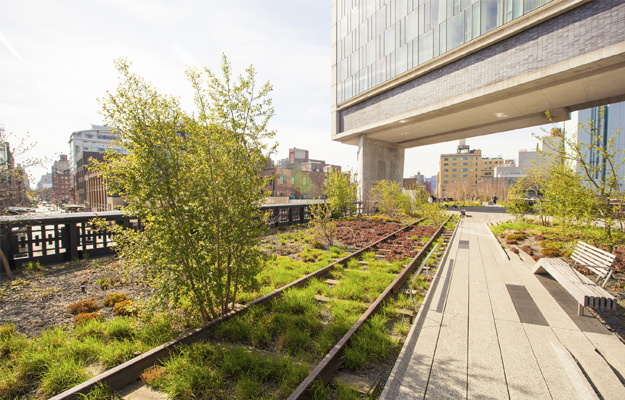 The Great White Way – Broadway
There are great theaters and theater districts throughout the world, but there is only one Broadway. And, because NYC is the birthplace of musical theater, attending a Broadway show, especially a musical, is uniquely New York. From golden age of Rodgers and Hammerstein greats – South Pacific, Oklahoma, The King & I – to familiar hits,Jesus Christ Superstar, The Book of Mormon, Wicked, Rent, Lion King, Cats, Hair, Chicago, Fiddler on the Roof, to the latest, sold-out-for-months phenom, Hamilton, Broadway's colorful marquees draw amazing talent and rousing crowds.