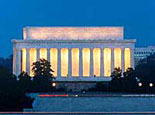 Washington, D.C. is a study in superlatives with a stunning array of world-class museums, monuments and architectural gems. This popular tourist destination welcomes millions of visitors each year. Although most people visit the city's historical sites during the day, the night offers an opportunity to see these landmarks in a unique way. After dark, Washington, DC takes on different qualities when the buildings, monuments and statues are bathed in the glow of the moon, stars and decorative lighting. A Monuments by Moonlight tour enables you to experience the beauty and awe that occurs when for viewing Washington, DC's majestic sights, treasured memorials and architecture at night.
This 2.5-hour narrated tour is a great way to experience the District's evening sights and sounds. It will enable you to see more attractions than you could while walking. Aboard the trolley, you will view 100 of the district's most popular monuments and other points of interest, including the Jefferson Memorial, the White House and the Capitol Building. Your guide also provides an entertaining and enlightening narration filled with the history and little-known stories about the city, various personalities and many of these points of interest.
The trolley stops for extended periods at the Iwo Jima, Martin Luther King, Jr., Lincoln and FDR Memorials so that guests can take pictures and explore the landmarks beneath the stars. The Marine Corps Monument also provides a breathtaking view of the Memorial Bridge and capital skyline across the Potomac River. The Lincoln Memorial stop includes the Vietnam and Korean War Veterans' Memorials.
Monuments By Moonlight Coupons
Monuments By Moonlight Tickets
The narrative reveals the story of the colorful Civil War officer who first gained notoriety by killing Francis Scott Key's son in Lafayette Plaza, which is adjacent to the White House. After losing his leg at Gettysburg, the Medal of Honor recipient visited his shattered limb at the Walter Reed Museum. Guests will also hear the tragic fate of those who have owned the world's most famous jewel, the Hope Diamond. Other intriguing and harrowing tales shed light on the back-story of apparitions that some claim haunt the city. You will also learn about the cultural significance of many of the monuments, statues and memorials that grace the city landscape. The public tour departs from Union Station at 7:30 p.m. every day except Christmas, Thanksgiving and Independence Day.