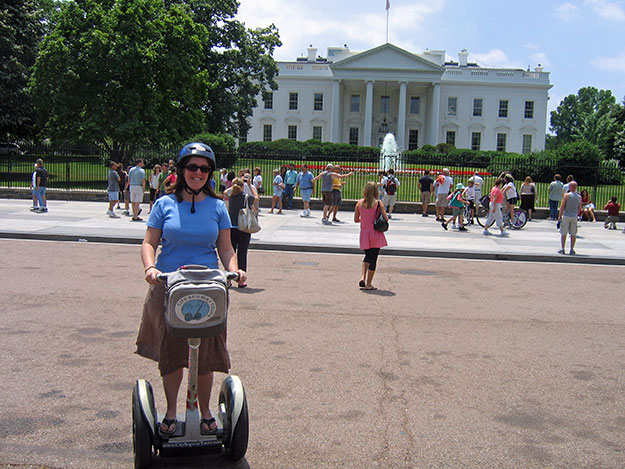 Hop on a Segway and for two amazing hours glide effortlessly through the spectacular National Mall. You'll pass monuments and memorials, paying tribute to presidents and national heroes; take in the impressive architecture of museums, repositories of America's treasures and achievements; and discover off-the-Mall hidden treasures too.
DC Sites By Segway Save An Extra 5% With Coupon Code: DCSEGWAY
Save $5 On The Following Segway Tours
National Mall Segway Tour– Coupon Code MALLSEGWAY
DC Segway Experience– Coupon Code DCSEGEXP
It's a blast!  With only a maximum of 8 people, each DC tour is a comfortable, personal experience.  The guides are wonderful.  They are knowledgeable, engaging, communicative, and passionate about what they do. And, they're funny too!  Site after site, through their knowledge and their ability to combine history and anecdotes, our nation's story comes to life. Familiar landmarks take on a new meaning.
The departure and return point, L'Enfant Plaza, named for Pierre L'Enfant who planned this remarkable city, was created out of farmland and swamp based on a vision of what the fledgling nation could become.  The tour travels along the Mall, past the remarkable Smithsonian museums – each an architectural masterpiece; each providing a visual history of the American experience.  Along the way, you'll see much more than awesome museums. Your guide will point out splendid gardens, grand fountains, sculptural pieces, each with a story to tell.
Beyond the marvelous Mall, the United States Capitol, "The People's House," and iconic symbol of democracy, rises on a hill.  Then it's on to Pennsylvania Avenue towards "The President's House."  Imagine gliding through traffic in the dedicated bike lane, right down the middle of the famous avenue, all the way to the north side of The White House!  What a feeling!   From there, roll on to the inspiring national war memorials located between the Washington Monument and the stark grandeur of the Lincoln Memorial. Each national war memorial is impressively beautiful and moving in a different way.
Never ridden a Segway before? Have no fear.  Once you arrive at L'Enfant Plaza, the Bike and Roll staff patiently makes sure everyone is trained and comfortable with the funny-looking stand up and roll vehicle.  It's much easier than you think.  You don't have to be a spring chicken to ride one, just age 16 and older.  The first few minutes may feel a bit strange, but before you know it you're into it like a pro.
If you only have a couple of days in DC, this is the way to see a lot in a short time, way more than you could see on foot.  If your stay is longer, take the Segway tour first. With so much to see concentrated around the Mall, it will help you decide what to explore further.  This tour is a hit with families.  No more teenager grumbling when they can sightseeing on a Segway!  It's great for groups and corporate outings. And, it's not just for tourists.  Locals will see DC like they have never seen it before and love every minute of it!