Visitors to Washington DC spend most of their time in iconic places around the National Mall: The White House and U.S. Capitol, emotionally moving memorials and awesome museums. To fully appreciate America's beautiful capital, get out of the Mall bubble and see it from another perspective – from the surrounding waterways.
Washington DC's location between the Potomac and Anacostia rivers as they journey past riverfront communities along the Virginia and Maryland shoreline, opens interesting opportunities to see DC from the water. Whether you go by water taxi, kayak, tour cruise boat or on a dinner cruise, the picture-postcard views are spectacular.
Keep it simple by taking a water taxi from one key destination to another in DC, Maryland and Virginia. Regularly scheduled departures make it an easy, fun way to get a water perspective of the city and visit picturesque Maryland and Virginia riverfront destinations.
The Wharf Water Taxi travels from District Wharf, a fun place to go to enjoy waterfront shopping, have lunch with waterfront views and go to outdoor concerts or festivals. Its location on the banks of the Potomac River along DC's Southwest waterfront is the ideal departure point for the Wharf Water Taxi to travel to and from National Harbor, Georgetown and Old Town Alexandria. The 25-minute ride to each destination has scenic views.
Best Wharf views: Walking along the boardwalk or kayaking on along the river on a kayak rented from concessionaires on Recreational Pier.

NATIONAL HARBOR
Accessible by Wharf Water Taxi, is an exciting 300-acre waterfront development with hotels, restaurants, shopping and attractions along the Potomac, just south of DC on the Maryland side. Scenic waterfront views abound.
Capital Wheel, an observation wheel which reaches 180 feet up in the air, has the most spectacular views in the DC metro area! Ride in climate-controlled gondola cars and gaze out as far as the eye can see. The Washington Monument and National Cathedral rise in the distance. Arlington's George Washington Masonic National Memorial, across the river seems up close.

Best Views: All around as you go round and round.

Rent kayaks, pedal boats and SUPs to venture out on the river for great waterfront views.

Best views: Both sides of the river.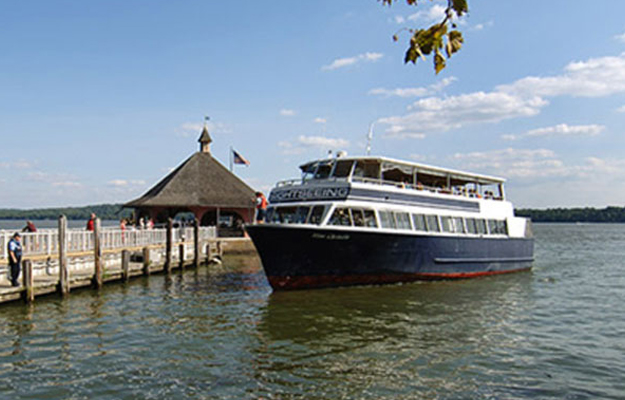 National Harbor to Mount Vernon Weekday or Weekend Cruise departs at 11 am for a lovely 50-minute scenic ride to Mount Vernon, George Washington's home, where you can spend 4 hours exploring the beautiful mansion, gardens, museum and Tomb.

Best View: Mt. Vernon from the river.

The narrated Washington Monument Cruise aboard the Matthew Hayes departs from National Harbor. Views of Washington's majestic monuments and iconic landmarks, including the Lincoln and Jefferson Memorials and the Washington Monument, are spectacular.

Best view: Sights up and down the river.

Take the National Harbor Alexandria Water Taxi, weekday or weekend, for a 30-minute, scenic water taxi ride to Old Town Alexandria.
OLD TOWN ALEXANDRIA
A thriving port town in the mid-1700s, today the picturesque waterfront town has a lot to see and do along the river. Centuries-old architecture, cobblestone streets and brick sidewalks offer wonderful photo ops. Walk along King Street, considered one of the great streets in America. Or, ride on the free King Street Trolley for a great overview. Visit museums and historic sites in the town George Washington called home. Pop into small boutiques; have a delightful lunch outside in a waterfront restaurant and watch the activity on the river.
Best Alexandria View: One of the best overall viewing sites in the area is the Observation Deck on the 31st and 32nd floors of the CEB Tower. It has spectacular 360°panoramic views of Washington DC and the surrounding area.
GEORGETOWN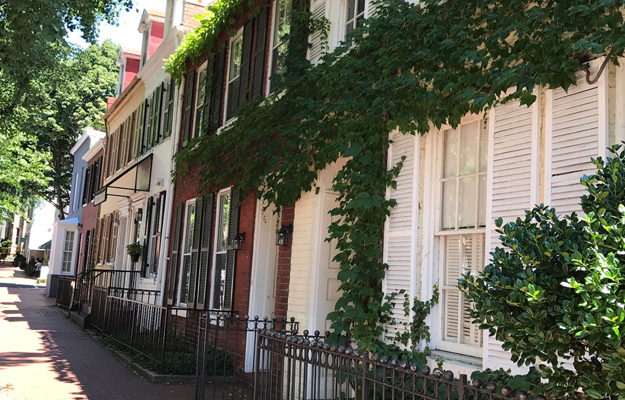 Also a thriving port city in the mid-1700s, is a unique waterfront community within DC. Well-known for its photogenic charm, shopping, Michelin-rated restaurants, many with outdoor seating in warm weather, has nice riverfront views. Rent a kayak or SUP from Key Bridge Boathouse for a view-filled paddle along the waterfront, past Roosevelt Island, and within sight of iconic monuments.
Best Georgetown Views: Georgetown Waterfront Park on balmy summer evenings with views of John F. Kennedy Center glowing in lights.
MT. VERNON
Home of George and Martha Washington from 1759 until 1799, is a must see. Stretching along the Potomac River, the estate and grounds are beautiful. Tour the mansion and outbuildings, including slave quarters, kitchens, stables and greenhouse. Stroll the gardens. See the Pioneer farm and working blacksmith shop, and artifacts in the museum. Seasonally, during April through October, visit the Distillery & Gristmill. Driving there is always an option. However, make getting there a scenic event by taking advantage of several boat cruise options, in addition to the National Harbor Water taxi.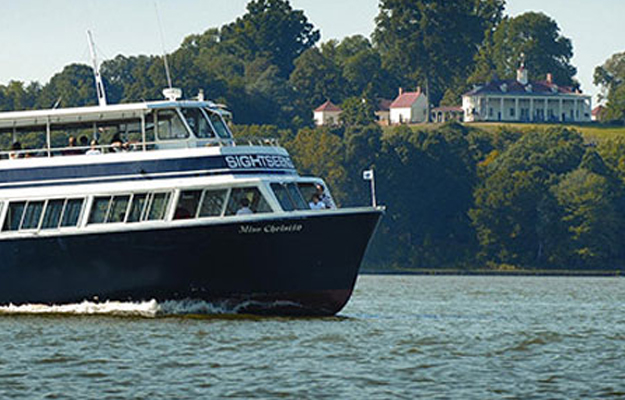 George Washington's Mount Vernon by Water Cruise. Departing from Alexandria, Mt. Vernon is only a 90-minute boat ride away. The narration throughout the journey enhances the scenic ride. Once at Mt. Vernon, spend 4 hours on a self-guided tour of the estate.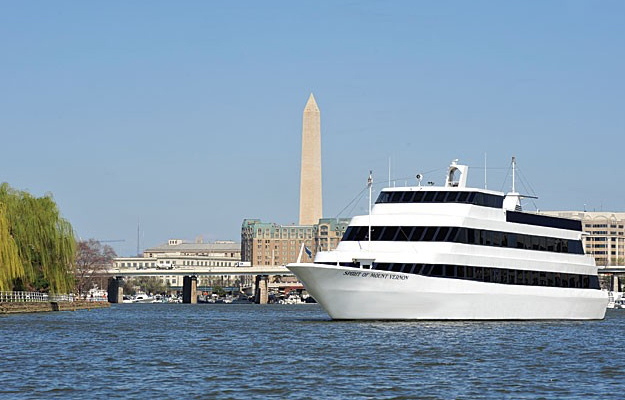 Spirit of Washington DC Mt. Vernon Cruise & Tour departs from Pier 4 on the riverfront in SW Washington for a 90-minute narrated cruise down the Potomac. Enjoy the views from outdoor decks or relax in the climate-controlled indoor decks. Once there, spend over 3 hours touring the mansion and estate.

Best Mt. Vernon Views: The mansion from the river and sights along the riverfront.
TIDAL BASIN SWAN BOATS & PEDAL BOATS
The view of the Jefferson Memorial surrounded by cherry blossoms often seen on postcards is taken from the Tidal Basin. You, too, can experience the beautiful sight of the distinguished memorial from the water while pedaling around the Tidal Basin in a Pedal Boat or a Swan Boat rented form Tidal Basin Boathouse.
Best view: The vista is spectacular, even without the cherry blossoms.
LUNCH AND DINNER CRUISES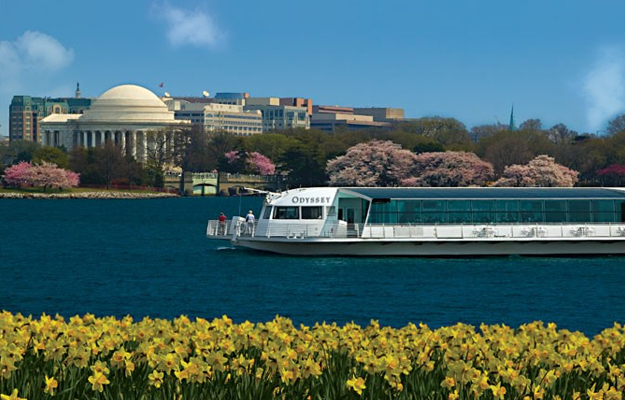 Slowly cruising along the Potomac River on an elegant cruise ship is a delightful, relaxed way to take in the sights as they stream by. It's especially pleasurable to do while enjoying delicious food and music too. Both the Spirit of Washington DC and Washington DC Odyssey Cruises offer a variety of 2-hour lunch or brunch cruises and 3-hour dinner cruises. Spirit Cruises have cabaret-style seating in climate-controlled dining areas with huge windows to take in panoramic views as you feast on bountiful buffets. Spirit also had a huge outdoor deck, offering great visibility in the soft breeze. Odyssey has three separate climate-controlled glass atrium dining rooms with awesome views. Elaborate buffets are offered on their lunch and brunch cruises. Their dinner cruise is a 4-course meal served at private tables. Both options have music and dancing on dinner cruises. Whichever option you choose, it's a delightful way to appreciate the beauty of America's capital from another perspective.
Save $19.45 Total with Code DCDINNERCRUISE on the Odyssey Dinner Cruise