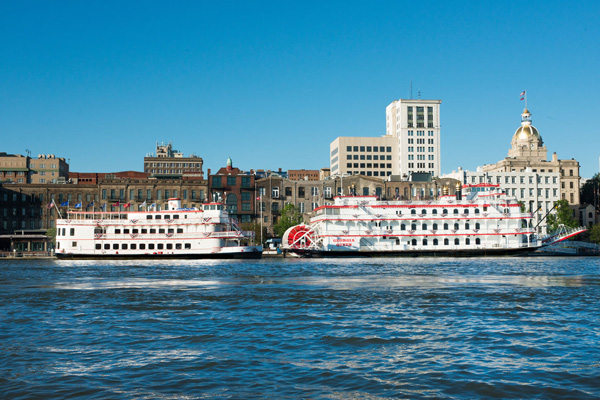 Savannah's collection of beautifully preserved historic homes, shady squares and historic plantations are just some of the reasons Savannah is such a popular vacation destination. Another is the surrounding water. A visit to Savannah is not complete without experiencing the extraordinary beauty of the natural coastal landscape, the sea islands, meandering rivers, mysterious salt marshes teeming with wildlife, and stretches of beach.
Make plans to experience any of these water activities. Get out on the active harbor, go by boat or kayak through tidal salt marshes, visit unique coastal islands, enjoy Atlantic Ocean beaches, fish off-shore, near-shore or in-shore, and enjoy casual waterfront restaurants serving tasty local seafood cooked the low-country way.

Sightseeing by River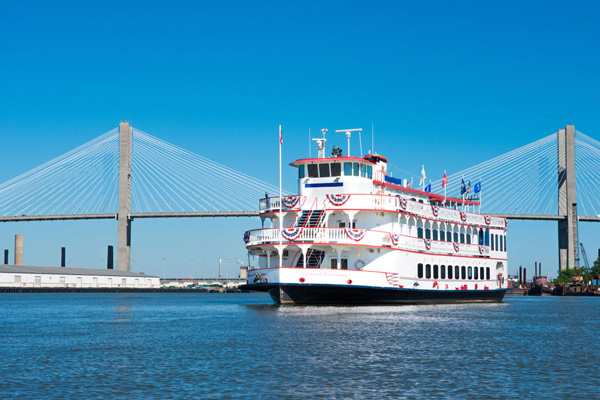 Savannah Riverboat Sightseeing Cruise. Take a fun 1-hour sightseeing cruise around the busy harbor and active port on triple-decker, replica paddle-wheeler boats, Savannah River Queen or Georgia Queen. Pick your viewing spot in the climate-controlled interior or along the rail of multiple-level outdoor decks. All are great for viewing and photo ops. Along the way, the Captain makes the trip interesting and fun by pointing out important Savannah sites, offering historical facts and telling intriguing tales and lore about the riverfront, the port, and ships and sailors coming into port from all over the world. It's a fun way to sightsee for all ages.
Search for Atlantic Bottlenose Dolphin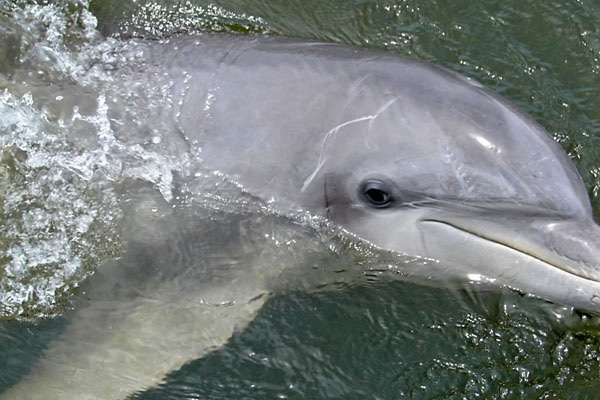 Dolphin Watch Aboard Dolphin Magic, a family favorite, takes off at 11 am from River Street near the Hyatt from March through November. On the way out to locations where Atlantic bottlenose dolphin play, the 2-hour adventure passes by sights everyone enjoys – River Street, Waving Girl, Fort Pulaski and Fort Jackson, Cockspur Island Lighthouse, Tybee Island and Tybee Island Lighthouse. The highlight of the trip is spotting pods of dolphin surfacing nearby, speeding by at remarkable speeds and, on occasion, leaping in the air. It's magical.
Captain Mike's Dolphin Tours departs from Lazaretto Creek Marina on Tybee Island at 11am to head towards the Atlantic Ocean on the search for dolphin playing in their natural habitat. Along the 1 ½ hour tour, see shrimp boats and docks with an old fishing village vibe, pass by hammocks and marshes, and be prepared to take photos of forts and lighthouses. Captain Derek's Dolphin Adventure follows a similar trip in search of the playful sea mammal. They depart at 11am and 2pm, from their dock on Lazaretto Creek.
Spend a Day in Daufuskie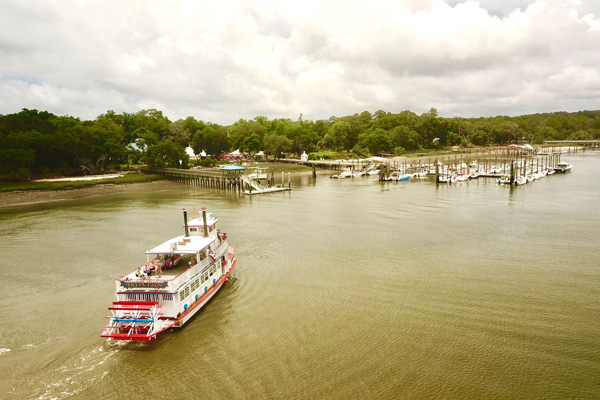 Take the Daufuskie Difference Ferry for a 1-hour narrated trip back in time to Daufuskie, one of the most intriguing and isolated of the sea islands along South Carolina's coast. Accessible only by boat, time spent on the isolated island is memorable. It;s first inhabitants were Native Americans over 9000 years ago. The first land grant was given in 1717 to an Englishman, and in the mid 1700s's, two families escaping religious persecution in Europe settled there. During the colonial era those two families and others built expansive indigo, rice and sea island cotton plantations. At the end of the Civil War, the free Gullah people, who had lived there as slaves working the plantations, returned to the island to live and work in oyster canneries and logging industry. Cut off from the world, the Gullah language, which combines southern English and West African dialects, can still be heard.
The ferry departs at 11am from River Street, arriving in Daufuskie around 12:00 noon. Before heading back at 4pm, there's a lot to see and do. Start out with lunch at the Old Daufuskie Crab Company on the waterfront or Lucy Bell's Cafe, Marshside Mama's or Eagles' Nest for fresh seafood the Daufuskie way. Rent a golf cart to explore the island on a self-guided tour. Or, inquire ahead about a guided tour. Taste locally made wine at the Silver Dew Winery. Shop at the "Not so General" Store. Tour the Bloody Point Lighthouse Museum. Before you board for the return trip, have a cocktail at Freeport Marina. It a day filled with adventures to remember and stories to tell.
Go on a Coastal Eco Tour
Savannah Coastal Ecotours' private powerboat and kayak Eco tours of the marshes, waterways, barrier islands, and backwater creeks near Savannah are customized just for you. Transportation from downtown Savannah to their location on the Isle of Hope, 15 minutes south of Savannah, is available. Sundial Charters, operating out of Tybee Island offers numerous interesting personalized Eco tours. Both tours have excellent guides who take you to places filled with wildlife sightings.
Head out to Little Tybee Island
For nature lovers, a kayak or boat trip to the coastal marshes, tidal creeks, rigid dunes and hammocks of Little Tybee Island is irresistible. Accessible only by boat, canoe or kayak, the pristine,6500-acre Natural Heritage Preserve on an uninhabited barrier island is a nesting place for bald eagles, white and brown pelicans, woodstorks, herons, egrets and ospreys. Sundial Charters' Little Tybee Unplugged is a popular 3-hour private tour exploring tidal creeks, sighting dolphin pods, walking beaches loaded with shells, and spotting nesting birds. Departing from Tybee Island, it's easy to get to and great for all ages.
Several options for guided kayak and paddleboard tours are available from water tour operators on Tybee Island and North and South Beach.
Go to a Tybee Island Beach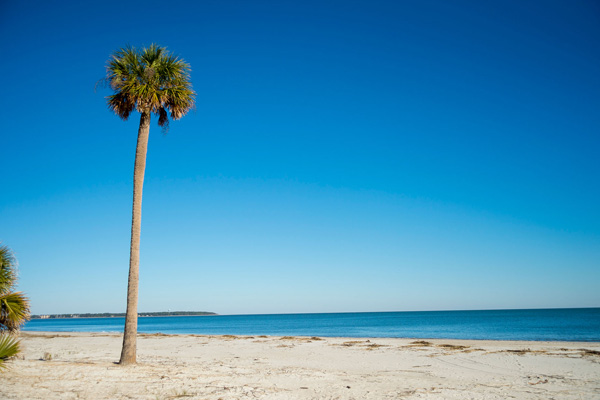 There's a lot of activity going on at Tybee Island's South beach. Walk the beach, swim and skimboard; play Frisbee, beach volleyball. Go out on the pier, check out the pavilion, beach shops and restaurants. If you are not a beach purist, go to North Beach to climb to the top of Tybee Lighthouse for a forever view. Cross the street for a walk through Fort Severn Historic District and museum.
Go Fishing – Inshore, Nearshore or Offshore
Fishing is a major sport in the waters around Savannah. Numerous experienced local charter captains know just where to find the fish. For Offshore fishing, some of the best known are Amick's Deep Sea Fishing and Miss Judy's Charters. For Inshore fishing, Coast River Charters is popular. The Captain's family has lived in coastal south Georgia for 8 generations. For inshore fishing, Sundial Fishing Charters and Marshland Inshore Fishing Charters both operate out of Tybee Island and are a great choice for anglers with kids. The tidal creeks and rivers are prime fly-fishing territory and Captain David Newlin Fishing Charters specializes in the skilled sport.
Comments Off on Water Activities You Should Add to Your Savannah Vacation