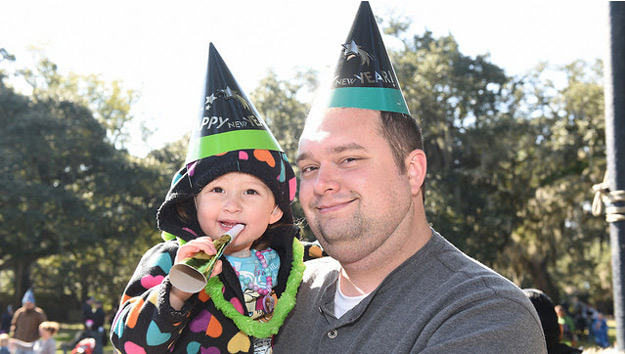 Image Courtesy of Audubon Zoo
Ring in 2016 with the annual Zoo Year's Eve countdown at Audubon Zoo in New Orleans. The family-friendly celebration will feature a full schedule of entertainment from 10 a.m. to 1 p.m. on the Capital One Stage and field. Complimentary Zoo Year's Eve party hats and noisemakers will be available while supplies last. At high noon, revelers of all ages can partake of a soft drink courtesy of Pepsi for the countdown and toast.
Members of the New Orleans Star Trek troupe will be near the main stage along side some of your favorite storybook and super hero characters. The Capital One Stage entertainment lineup includes live music, a dance party, games, prizes, a Jay V fitness demonstration, juggling and more. More than a dozen exhibitors, including Gymrompers, Porta Puppet Players, Ponytales and TaDa Drama Studio will offer a variety of fun activities and games.
This year, holiday "ice" skating on a rink made from high-tech plastic also will be part of the celebration. Skating will require an additional ticket that can be purchased at the front gate or at the Endangered Species Carousel ticket booth inside the Zoo. The skating rink will be open from 10:30 a.m. to 3:30 p.m. near the stage. Skating tickets are $5 for Audubon members and $7 for non-members and are good for one-time access to the rink. Children under two years of age are free. Ticket sales will close at 2:30 p.m. All skaters will be required to sign a liability waiver prior to entering the rink. Guardians must sign for minors (anyone under the 18 years of age). Special skates will be available at no additional fee. Skaters cannot bring their own skates. The wait time for skaters will be determined by the number of people in line at any given moment. The rink, which measures 40 feet by 30 feet, has a capacity of about 35 people.
This festive celebration is included with Audubon membership or Zoo admission. Audubon Zoo is located at 6500 Magazine Street.
Capital One Stage Entertainment Schedule:
10:00 a.m. – Super Star games and prizes
10:30 a.m. – Welcome/Kickoff entertainment
10:35 a.m. – Jay V Fitness
10:45 a.m. – Junction Sports
11:00 a.m – Debby Dillehay's Dance Studio
11:10 a.m. – TaDa Young Actors & Artist Studios
11:25 a.m. – Carl Mack Presents Scotty the juggler
11:35 a.m. – Carl Mack Presents Oops (hula hoops)
11:45 a.m. – Super Star entertainment
11:55 a.m. – Fat City Drum Corps
12:00 p.m. – Countdown, toast and singing of "Auld Lang Syne"
12:05 p.m. – Fat City Drum Corps
12:30 p.m. – Super Star Games and prizes and dance party
1:00 p.m. – Main stage performances end
Comments Off on Zoo Year's Eve at Audubon Zoo of New Orleans