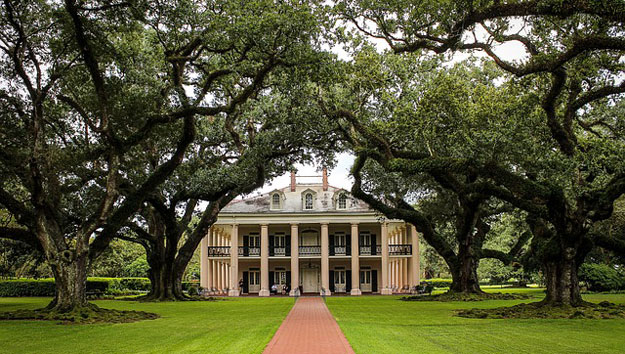 Two days in New Orleans. There's so much to see, it begs the question of where to begin? Here's a plan beginning with a must-have, tasty New Orleans breakfast through the evening live music scene, with some New Orleans history, travel suggestions, and alternative activities thrown in.
DAY 1 MORNING
Start the day out with a beignet and café au lait. Experience it at Café du Monde, along with the sights and sounds of Jackson Square surrounded by historic St. Louis Cathedral, the Cabildo and Presbytere, as well as street vendors, mimes, artists, an occasional fortune teller and jazz musicians setting up for the day. A more substantial breakfast is easy in the French Quarter where breakfast is often served all day. Café Fleur de Lis has yummy shrimp and grits and Croissant's d'Or has the flakiest, tastiest croissants in town. Mena's Place serves a true Southern breakfast; order pain perdue (French toast) at The Old Coffee Pot; Stanley on St. Ann St. serves a splendid breakfast which is more like brunch. Meals from the Heart in French Market is for all the healthy folks! Or, to keep it simple pick up something tasty from a vendor in French Market, sit on a bench, enjoy the bustle of morning activities, browse the shops and stalls in the open-air market that has been around since 1791.
Get to know the French Quarter beyond Bourbon Street. Spend the morning of Day 1 really exploring Vieux Carré;  guided tours will help you get to the right places to appreciate its beautiful architecture and rich history. Take your pick: walking tours, bike tours, Segway tours, bus tours and even horse-drawn carriage tours. For walking tours, check out Free Tours by Foot, Historic New Orleans Tours, Gray Line's French Quarter Walking Tour which includes a stop at the Pharmacy Museum, filled with potions and old herbal remedies.  New Orleans Segway Tour is great fun for anyone who wants to glide through the streets and squares of the French Quarter, Treme, and along the Mississippi, while getting information from entertaining guides. Friends of the Cabildo give historically rich French Quarter walking tours departing at 10:30 and 1:30. Here's an "only in New Orleans" walking tour with great appeal: Historic New Orleans Cemetery Tour visits St. Louis Cemetery #1 with a stop by Marie Laveau's tomb! Clomping around the cobblestone streets in a mule-drawn carriage on Royal Carriage Tours is a more intimate, personal experience with interesting narration.
Prefer to walk around on your own? There are a lot of good walking tour maps around. Window shop the antiques, boutiques and galleries down lovely Royal Street and Chartres Street. Don't miss the finds on side streets. Besides all the historic sites around Jackson Square, stop into the 1850 House Museum filled with artifacts and furniture of the prosperous era. Check out the Pharmacy Museum, an old apothecary shop filled with herbal remedies and bizarre medical practices of the past, or delve into the myths, realities, potions and practices of voodoo in tiny Historic Voodoo Museum.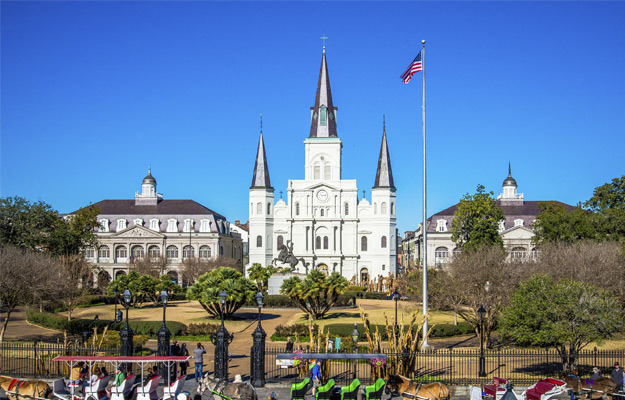 DAY 1 AFTERNOON 
It's lunch time – that means more delicious New Orleans food! The French Quarter is loaded with choices that it's hard to go wrong. Check out coffee shops, delis & traditional Cajun restaurants open for breakfast and lunch, and for dinner too. Check these out on Decatur: Central Grocery for muffulettas; Croissants D'Or Patisserie for savory soups and sandwiches. Frank's Deli has an Italian twist; Coops serves hearty Cajun fare. Johnny's Po Boys on St. Louis had over 45 varieties of what else – Po Boys; Casual Creole at La Bayou on Bourbon St. is a New Orleans tradition; so is casual, classy, family-friendly Remoulade; Huck Finn's Café menu features recipes passed down through generations. For food on the go, check out the restaurants around and the vendors in French Market.
Time to walk off that lunch! Walk to Canal Street and get on Green 48-City Park/Museum streetcar line, enjoying the sights along the way. Get off at the end of the City Park line at Lelong/Esplanade and Carrollton Avenues and walk into City Park. This lovely, verdant 1300 acre park in the densely populated city is New Orleans' answer to Central Park, and just as beautiful in a southern Louisiana way. With a natural bayou running through it, as well as meandering paths through lovely landscape and across footbridges, a lake with boat rentals, fun kid things like an antique carousel, miniature train and a whimsical playground filled with storybook sculptures, it's a great way to spend a New Orleans afternoon.  Best of all, it is home to the New Orleans Museum of Art, whose permanent exhibitions include French and American art; the Bestoff Sculpture Garden, where 60 fabulous sculptures are tucked in along meandering footpaths and the Botanical Gardens – all must sees.
DAY 1 EVENING 
It goes without saying that New Orleans offers fabulous dining choices in every price range. On the first evening in New Orleans, dress up, splurge and treat yourself to an elegant dinner of classic Creole cuisine in beautiful surroundings at one of the "Old Guard" French Quarter restaurants, each a gem: Arneaud's, Tuyague's, Broussards, Antoines, Brennans or Galatoires.
The French Quarter definitely has a nightlife experience for everyone! If you've come to New Orleans for music, Frenchmen Street in Faubourg Marigny, adjacent to the French Quarter, is the place to find it. Hipper, trendier, and for a 4-block stretch, beginning at the 500 block with bars and night clubds. Check out Frenchmen Art Market, New Orleans' only weekly nighttime market for art, jewelry and crafts by local and regional artists. It's a family-friendly experience within the lively music and nightlife of Frenchmen St. For music without the bar scene, Preservation Hall is where you want to be. Line up early to catch the best live traditional jazz anywhere.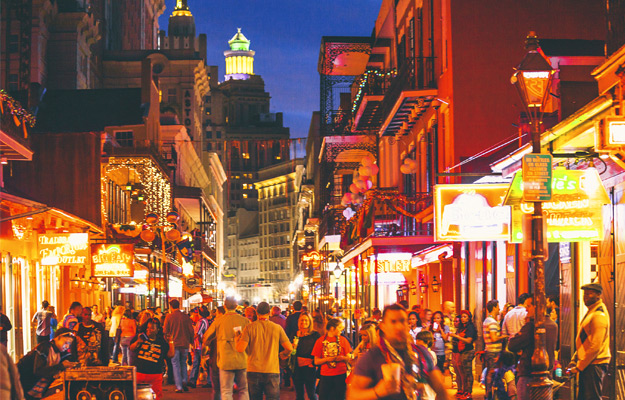 DAY 2 MORNING
Start the day with a scenic ride to the Garden District on the fabled St. Charles Streetcar. Leaving the French Quarter on Canal Street, the ride passes through the Warehouse/Arts District filled with trendy restaurants, art galleries and interesting museums. Get off at Washington Ave. and begin walking through the Garden District, a visitor favorite. More open, with magnolia shaded streets lined with gracious mansions and homes, it looks and feels totally different than the French Quarter. Here's why. Following the signing of the Louisiana Purchase in 1803 Americans began arriving in their newly acquired territory. Not being welcomed by the Creole families living in the French Quarter, they began building their homes just across Canal Street in the antebellum architectural styles familiar to them: Greek Revival, Italianate, Georgian, Queen Anne. Wonderfully restored and maintained today, they are the grand homes of the rich, famous, and notorious.
With a good map, get off at Washington Ave. and walk it on your own. A better plan to avoid wandering around aimlessly not really knowing what you're looking at, a 2 to 3 hour Garden District Walking Tour is the way to go. On these tours, visitors really see and hear all about the past and present of this elegant district from insiders. Most Garden District tours include a visit to Lafayette Cemetery #1, the oldest and most beautiful of New Orleans' "Cities of the Dead." Some walking tours begin in the Garden District; others provide transportation there. Look into Free Tours by Foot whose personable tour focuses on stories and legends of the Garden District and Cemetery; Historic New Orleans Tours highlights history and houses; Gray Line New Orleans Walking Tour gets you to the Garden District by motorcoach, where the walk begins and includes a tour of the 1865 Opera Guild Home and the Cemetery.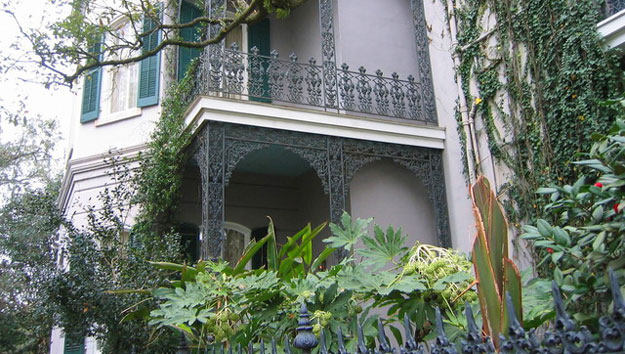 DAY 2 AFTERNOON
Just beyond the Garden District, in Uptown, Magazine Street is a 6-mile stretch of great shopping, drinks and food with a totally different vibe than the French Quarter. An eclectic, interesting mix of antique shops, art galleries and boutiques, most owned by locals and housed in a mélange of different architecture, sell everything – art, antiques, traditional, vintage and boho clothing, silver, pottery, jewelry, leather goods, stationery, home furnishings. Many coffee shops and restaurants have outdoor seating and, besides traditional Creole and Cajun food, there's a full range of international food: tacos, burritos, tapas, pho; pizzas, organic smoothies, burgers, European hot dogs!
Or visit the murky, meandering, mysterious bayous of Cajun country. Get out on the Louisiana swamp, shaded by moss-draped cypress trees with prehistoric looking cypress knees protruding from the opaque green water, and swampland teeming with wildlife: alligators, turtles, snakes, raccoons, wading birds, bald eagles, and more.  Multiple companies give great tours. Some use swamp boats; some have airboats; others, both. Jean Lafitte National Historic Park & Preserve is just 25 miles away and there are a couple of tour companies offer hotel pick up service to get you there. Jean Lafitte Swamp Tour with Transportation will pick you up at your hotel between 12:30 and 1pm and get you out for a ride through the south Louisiana swamplands in a swampboat with a local Cajun guide. Gray Line's Swamp Adventure with Transportation picks you up, takes you to the Park by motorcoach and off you go on a swampboat ride. Cajun Encounters offering tours with or without hotel transportation, take visitors out on pristine Honey Island Swamp on smaller 22 passenger swamp boats with guides eager to help spot abundant wildlife.