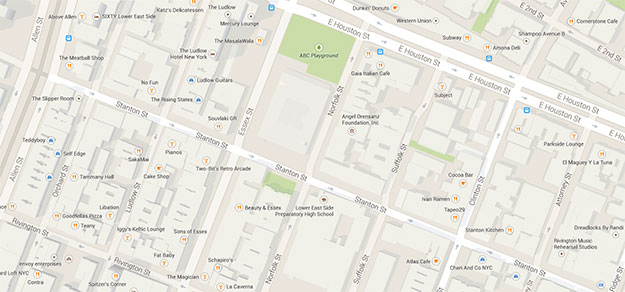 The Lower East Side is the "in" place for foodies.  One of the oldest neighborhoods in Manhattan, and at one time the largest immigrant enclaves, it's where New Yorkers in the know have gone for authentic ethnic food, particularly traditional Jewish favorites.  With each wave of newly arrived immigrants, it became the go-to place not only for herring, smoked fish, Bialys, pickles and Knishes, but also for specialties from other cultures – Chinese, Vietnamese, Indian, Greek, Hispanic, Japanese.  The latest Lower East Side food trend:  the influx of uber-sophisticated contemporary restaurants competing with one another for culinary perfection along Clinton Street, rightfully called "Restaurant Row."
The 2-hour guided Lower East Side Artisan Food walking tour is a journey through the tasty diversity of neighborhood favorite food.  Some are traditional; others are handmade on-site; yet others reflect the current upscale gourmet trend.  The six to seven food stops along the way can change daily, but may include scrumptious Spanakopita, Greek spinach pie, in which onion, garlic, feta, ricotta, and spinach blend in amazing smoothness inside a flaky phyllo wrap.  Or, Souvlaki, flavorful meat and veggie Greek kabobs.  Authentic hand-made Neapolitan pizzas – fresh mozzarella, San Marzan tomatoes, oregano – tasty in its simplicity, reflect the neighborhood's Italian heritage.  A stop to a Jewish deli or bakery is a must for freshly made Bialys, similar to a bagel without the hole, baked, not boiled, and filled with onion or poppy seeds; or Knishes, little golden domes filled with flavorful mashed potatoes and onion; and, of course, no one leaves the Lower East Side without a pickle!  For the sweet tooth, gourmet chocolate and donuts are the hip gourmet trend.
The Lower East Side is more than great food, and the walking tour weaves in just the right amount of sights along the way – Tenement Row, Essex Street Market, Streit's Matzoh Factory – and history which, together, explain the role this working class neighborhood of immigrants played in shaping America.  In the late 19th and early 20th century, this was the center of Jewish culture.  Overlapping waves of the newly-arrived followed:  Germans, Irish, Italians, Poles Ukrainians, and more recently, Chinese, Puerto Rican and Dominican.  Multi-generational families, living in large tenements, worked their way into the American dream.  They prospered, they moved on, leaving behind a distinct cultural imprint.  Like remnants in a Lower East Side bargain basement clothing shop, layers of the neighborhood's past survives.  Here and there.
The latest change, which began in early 200o, has brought about an immigrant wave of a different sort.  Trendy, hip New Yorkers are moving in, gradually transforming the working class neighborhood. With them comes the glitz of upscale boutiques, art galleries, nightlife, fancy restaurants.  The result is a unique co-existence between the old and the new, making the Lower East Side all the richer.
Save $5 with Coupon Code:  NYES5
Purchase Discount Tickets for the Lower East Side Artisan Food Tour