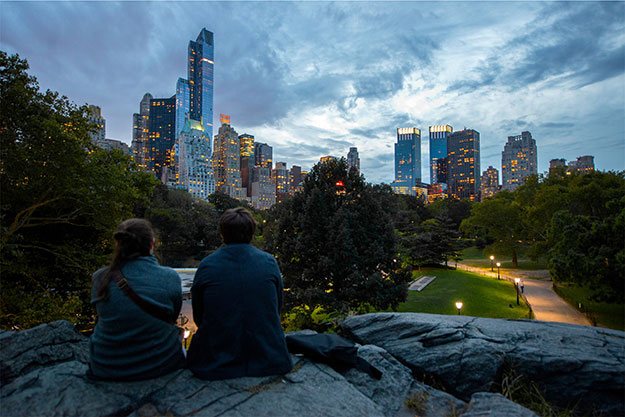 Central Park Bike Tours at Night
Try a different kind of night out on the town.  Take a ride in the park. Specifically, a night bike tour in Central Park!  It's simply spectacular. Well-planned by Bike and Roll for beauty and ease, the 7 mile, 2.5 hour night bike tour is filled with breathtaking views, both within the park and looking out to what lies beyond it.  It has all the right magic for a special night outing for families, couples, friends.
At night, hard edges are softened.  Lighting creates highlights, shadows and reflections which add dimension and illusion.  What is by day mundane transforms by night into wonderment.  Inside Central Park, beautifully illuminated places captivate the imagination. The curvature of a bridge becomes lacy fretwork; trees are stylized silent sentinels.  A somber stone medieval castle glowing silver against the night sky, transforms into a princess palace.  Looking out towards the New York City, rows of architecturally stunning high-rise buildings bordering the park become singular masterpieces of gold and silver against the night sky.
The tour begins just inside the park at Columbus Circle, at night a roulette wheel of light. With a well-informed, friendly guide in the lead, peddling through the soft Manhattan night begins.  The tour travels along softly lighted bike paths around the park's outer loop. Detours along crossroad lead to special highlights in the center of the park.
One after the other the night spectacular unfolds. Tavern on the Green, totally covered in small white lights, and with horse-drawn carriages pulled up alongside, is straight out of a Currier & Ives scene.  Stately brownstones along Central Park West glow. Illuminated Bethesda Fountain and Terrace are breathtaking.  Bathed in light, Belvedere Castle, reflected in the pond below, is double the magic.  Softly illuminated bridges and arches surrounded by shadowed foliage and mirrored in small ponds, look like Hudson School landscape paintings. The Guggenheim and Metropolitan Museum are grandly majestic.  A favorite photo op: a panoramic view of elegant high-rises along 5th Avenue casting a glittering gold reflection on the still surface of Jacqueline Kennedy Onassis Reservoir.  It's a unique tribute to the former First Lady known for her dedication to the restoration and preservation of historic places, and whose home on 5th Avenue overlooked America's first landscaped park.
Save $5 with Coupon Code: NYNI5

Purchase Discount Tickets For NYC Night Bike Tours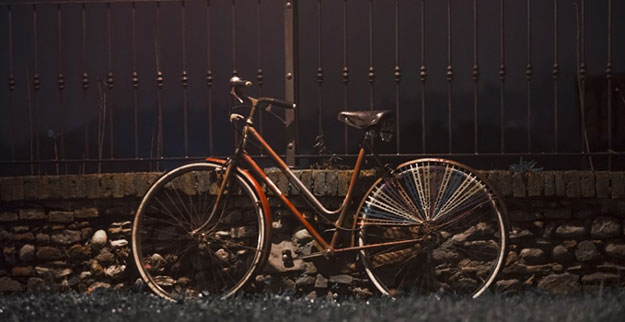 Central Park Bike Tours By Day
Globally recognized, and beloved by New Yorkers, the 843 acre swath of green is not only situated in the very heart of Manhattan, it is the heart of Manhattan.  This skyscraper-fenced pastoral oasis of rolling meadows, lovely wooded trails, tranquil lakes, formal gardens, decorative bridges and arches, statuary, living memorials, ball fields, playgrounds, skating rinks, band shells, outdoor theaters, is at the top of every visitor's list.
How to even begin to see it all?  No way can it be covered on foot.  Catching glimpses from the street is like not seeing it at all. The way to really experience it?  Bike it!  On the Bike and Roll Bike Central Park Tour. It's fun and interesting, thanks to good planning and the knowledge of the guide who knows where all the cool places are and how to get there.
The easy 2-hour, 6 mile tour begins at the Tavern on the Green, itself a New York City landmark.  Once everyone is comfortably situated on the well-maintained bikes, the fun begins.  With the genuinely friendly guide in the lead, the group heads out along the loop trail, which goes around the entire park.  Side trips veer off along interior bike paths to must-see places.  The ride moves at a steady pace, stopping frequently along the way to see special features close-up: Strawberry Fields, the living memorial to John Lennon; Cleopatra's needle; Belvedere Castle, built for ornamentation only; Delacorte Theater, home of Shakespeare in the Park, a summertime favorite for generations, vast Sheep Meadow; and  quaint Cot Cottage.  Spring, summer or fall, beautiful scenery offers photo ops around every bend.
Here's a surprise – Central Park is a bit hilly!  The reason:  it's man-made, layered over the naturally rocky, contoured and in some places, swampy terrain.  When the project began in 1857, visionary landscape architects Frederick Law Olmstead and Calvert Vaux worked and shaped meadows, lakes, woodlands and paths around and through some of the exposed bedrock which forms the substrate of Manhattan Island.  While the terrain is a little roly in spots, not to worry!  It's no mountain bike ride.  It's more like pedaling up a gentle slope every once in awhile. This is, after all, a park created as a leisurely pastime for genteel New Yorkers of the Victorian era.  It was and is, pastoral and serene.
You gotta bike this park!  It's invigorating and unforgettable.  For people of all ages.
Save $5 With Coupon Code: NYGB5
Purchase Discount Tickets For Central Park Bike Tours