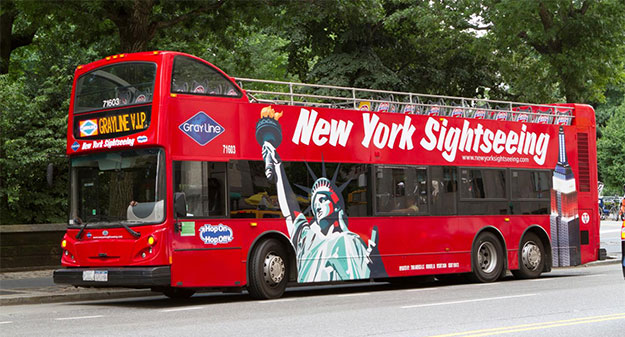 New York City – Big.  Bold, Busy.  Always on, 24/7.  So much to see and do from one end of Manhattan to the other.  Imagine if it were possible to see this amazing global city from a bird's eye view, way above the madding crowd.  Imagine no more.  Tour it, see it,  hear it, photograph it, all from the open-air top deck on a classic NYC tour.
It gets better! Personable, well-informed on-board guides narrate in English along the way, ensuring you don't miss a thing, and narrated GPS-triggered audio tours are available in 11 languages  There's more!  The daytime tour loops offer 50+ Hop Off/Hop On stops to visit places of interest, explore, shop, and dine.  When finished at one stop, hop back on the next big red double-decker bus that comes along and resume the tour.  It's the perfect, no-hassle way to take a really big bite out of the Big Apple and, for a limited time, enjoy these discount coupons!
Double Decker Bus Tour of Downtown Manhattan
1-day (24 hour*) tour of Downtown and Midtown Manhattan.  Goes by places everyone comes to NYC to see –Times Square, Empire State Building, United Nations, 5th Ave, Rockefeller Center, Central Park, Madison Square Gardens, Theater District, World Trade Center Site, Battery Park, South Street Seaport, and the must-see neighborhoods: Soho, East Village, Greenwich Village, Chinatown, Little Italy. Get off at any of 20+ stops of interest, explore, visit, shop and get back on again until the next stop. Repeat.
Save $3 with Promo Code: NYDL3

Purchase Discount Tickets For Manhattan Double Decker Bus Tour
New York Double Decker Bus Deluxe Tour
2-day (48 hour*) tour made up of 4 separate daytime double decker bus loops with 50+ stops along the way. PLUS a spectacular double decker Night Tour! Daytime loops include Downtown, Uptown, Brooklyn, the Bronx and Harlem, accessed by switching from one loop to the other at designated points.
Downtown Loop is described above.  Uptown Tour Loop includes Columbus Circle, where all spokes lead to shopping, dining and entertainment; Lincoln Center; tree and brownstone-lined Upper West side, neighborhood of notables in music and the performing arts.  Up the east side of Central Park, Museum Mile is lined with the world's finest museums. Brooklyn Tour Loop begins at South Street Seaport, taking in the Brooklyn Bridge, Brooklyn Museum, Botanic Gardens, and more. Bronx Tour Loop crosses Uptown through Harlem, the center of African-American culture, business and political activism, and home to famous Apollo Theater, then over the Harlem River into the Bronx, the home of Yankee Stadium.  The 2+ hour Night Tour** is an unforgettable magical night.
Save $3 with Promo Code: NYAL3  
Purchase Discount Tickets for the Deluxe Tour of NYC

New York Double Decker Bus Night Tour
Experience the magic of NYC at night from the open upper deck of a double decker bus!  Bring a wrap in the summer, a warm jacket in the fall, plenty of warm layers in the winter, and enjoy the ride.  Soaring skyscrapers send beams to the stars; mid-level buildings glow; special effects lighting creates shadowy dimensions; kaleidoscopic neon is everywhere.
Save $3 with Promo Code NYNT3  
Purchase Discount Tickets for the NYC Night Tour

New York City Tour in a Foreign Language 
NYC is the #1 destination for foreign visitors, and here's how German, French, Spanish or Italian speaking visitors can fully experience the richness of the sights presented in their own language by an on-board multilingual guide.  The 4 ½ hour tour aboard a luxury motor coach travels by all the important places in Downtown and Uptown Manhattan.
Save $3 with Promo Code NYFL3  
Purchase Discount Tickets for NYC Foreign Language Tours