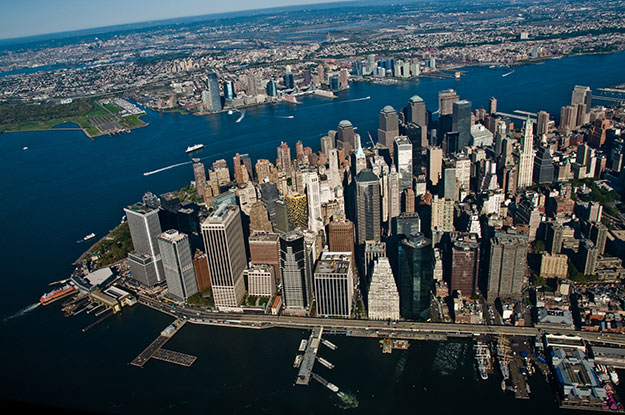 If you can only pick one thing to do in NYC, do this!  See the grandeur of it all from the sky!  On on a helicopter tour.  The WOW factor is off the charts!
From beginning to end, Liberty Helicopter's service is first class.  There is a necessary process to go through upon arriving: standard airport security check, safety briefing, and placing carry-ons in lockers.  Once everyone is settled into the six passenger seats, with seat belts on and headsets adjusted, the pilot's pleasant voice is heard clearly through the headsets, reassuring even nervous Nellies.  The chopper quickly lifts, hovers, and it's up, up and away! The smooth, fantastic ride has begun!
Cruising altitude is quickly reached. There are no superlatives to adequately describe the view.  Over there is Governor's Island, then Ellis Island and the distinctive green patina of proud Lady Liberty, torch held high, come into view.  Amazing!  From this perspective looking north from the lower tip of Manhattan, it's easy to see that this really is an island, one loaded with some of the most iconic architectural structures in the world. Cruising by the Financial District in Lower Manhattan, the pilot begins pointing out significant sights along the way on the flight up the west side over the Hudson River. Look, there's New Jersey off to the left!
Like pieces of a three-dimensional puzzle, familiar sights comes into focus.  Chelsea Piers jut out into the Hudson, along a shoreline edged by lots of green space, including the Hudson River Greenway.  In the distance, bluffs rise.  Inland, great Midtown skyscrapers are clearly visible. It's fun to pick them out – iconic Empire State Building, stainless steel sunburst topped Chrysler Building, and more. Rockefeller Plaza spreads out off 5th Ave, and twin Gothic steeples of St. Patrick's Cathedral appear draped in lace. Impossible to miss is Central Park, a large rectangular swath in shades of green (or red and orange in the fall), set right in the middle of vast stretches of architecturally stunning buildings.Columbus Circle looks like a roulette wheel surrounded by modern glass towers winking in the sunlight.  On the east side, iconic bridges, like arcing strings suspended from big blocks, cross the East River into the city's 4 other boroughs.
Liberty Helicopter Tours offers two great tours with similar experiences.  The difference between them is one of time, scope and flight days
New York, New York Helicopter Tour      Coupon Code:  NYNY10   ($10 off)
Tour duration:  16-20 minutes
Scope: Goes further up the Hudson River and over to the bridges across and sites along the East River.
Days:  Daily except Sundays
Use Promo Code and Purchase Discount Tickets For NYC Helicopter Tours

Big Apple Helicopter Tour of New York     Coupon Code: NYBA5  ($5 off)
Tour duration:  11-15 minutes
Scope:  Takes in Manhattan Island and beyond primarily from the route up the Hudson River
Days:  Daily, including Sundays
Use Promo Code and Purchase Tickets for the Big Apple Helicopter Tour