If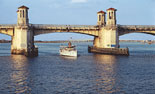 you are searching for a truly unique way to explore St. Augustine, Florida, then you should definitely give the Scenic St. Augustine Boat Cruise a try. St. Augustine is well-known for its historic beauty. Its cobblestone streets contain plenty of stores to shop for antiques and indulge in your love of fine arts and arts and crafts. Few tourists, however, ever see St. Augustine by boat from the perspective of a local on the Scenic St. Augustine Boat Cruise.
Interested in a Scenic St. Augustine Boat Cruise? Use this code:
Save an additional 5% with Coupon Code: SASC5
Buy St. Augustine Cruise Tickets Online.
The Usina family, who have been conducting these boat tours for generations, will share their unique perspective on the city with you. The third-generation boat captain will tell you all about the city's founding by the Spanish in 1565 and subsequent events that influenced St. Augustine.
The cruise will take you by the Castillo de San Marcos, which was built over the course of 23 years. It's walls are constructed of a limestone made primarily of seashells and coral. The walls of Castillo de San Marcos have never been breached in spite of the centuries of artillery attacks and violent hurricanes.
The cruise will also show you some of the 43 miles of seashore to be found around the St. Augustine beaches. In addition, the beaches of St. Augustine host a number of wildlife species unique to the Florida ecosystem. On your cruise, you might be able to catch a glimpse of a pod of bottlenose dolphins or a manatee in the bay.